Some of you may know that I got myself a pair of Vic Firth (Steve Gadd) signatures for my birthday. These are the same drumsticks my mom wanted to give to me four years ago, but did not because she died before she could do so. I was thrilled to see these sticks on the shelf, to say the least, and I did not hesitate to get them. Trusting that I would put them to good use one day, I did a little wrist training with them whenever I could.
Then, rather unexpectedly, it came to pass that a parish friend and I got to talking — he's in a blues band, and he wondered if I could be of help, mainly as a vocalist. I couldn't remember a single song, unfortunately, because my PC kept on shutting off in that oven-like weather we had over the last few days. However, yesterday, when I went with him to that studio in Greater London, I went as a drummer.
As you can see, the first signs of visible use have finally shown on these drumsticks. I was to accompany two others — the parish friend in question was on rhythm guitar, and his friend was on lead. There was no bassist among us, unfortunately. There was another guitarist in the studio, but he could not play because the guitar he was holding was tuned to G (and had to be left in that tuning for another piece).
It was the first time that I had ever
properly
accompanied someone. My last drum practice before this was September 2010.
During the rehearsals leading up to
Musical Explosion
earlier this year, I had the opportunity of playing the drums a little bit, and that was my actual
first
time accompanying anyone. Another friend was on keys, and I was to drum to praise and worship songs that I was familiar with. But given that his style of playing and my style of playing are different... it was difficult to make the piece sound nice. The way I play
Lord, I Lift Your Name on High
on keys is very soul-like, as some people have told me... and hence my drumming did not fit. I honestly thought I could've done better, and I felt so small.
This time... I came into the studio, still feeling small. I felt I was the worst among the three of us. The lead guitarist was by far the most skilled of us three. I had informed my friends beforehand that I had not had proper practice for two years. I was also not very familiar with the songs they were singing. It took me fifteen minutes, just about... and three pieces before I finally played something on the drums that night.
The two friends who were with me had booked the studio for three hours. This was what came out of me over the latter half of our practice.
I'll be honest: this is not something I could've done on my own. I was
very, very, very
scared. I remember even muttering a short prayer, 'oh Lord, please help me to find my rhythm!' Towards the end, I was beginning to improvise.
When I was dropped off at the university gates, I uttered a string of thank-yous to the Man Up There. I was brimming with excitement and joy, I could hear the drums still pounding in my heart.
In moments like these I do want to thank God for the gift of rhythm. Even from the age of 15, I was certain I could play even when a lot of people doubted my ability to play. Still, even though I am self-taught (for the drums at least), I do realise that what I have is but a part of God's immense creativity, and I would love to use it well. I'm not the best drummer there is around, but I do certainly want to play for Him with all my heart, with the innocence of a child.
After I had returned I showed Christo the chip marks on those sticks. He was pleased! :D
NB:
If ever I am a contributor to this band, I would definitely make it part-time. I do bear in mind that I am a student, I am regularly contributing to the Catholic Society and Kingdom of Herts, and I might soon have a part-time job.
I was asked whether this was a secular band. I'll be blunt: it is. Here's the thing though:
all
the band members respect the fact that I am 21, a student, a defender of the Faith and very much against parental advisory content. That is a very good thing. If anything, I'm seeing this as an opportunity to train up on the drums so that when I finally am able to contribute to Kingdom of Herts
live
, I will be very much ready.
And the pounding in my heart still goes on, and on, and on.
Other pictures—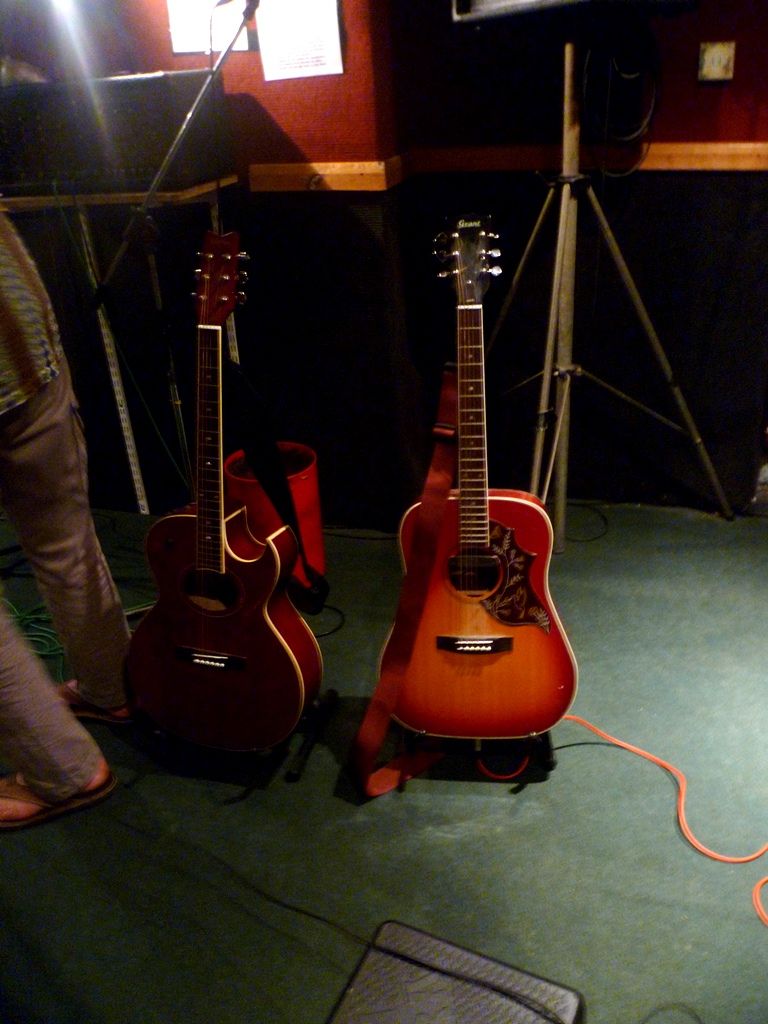 Two out of three guitars used. The one on the right was tuned to G for one of the pieces, which involves the use of a bottleneck (slider) down the strings.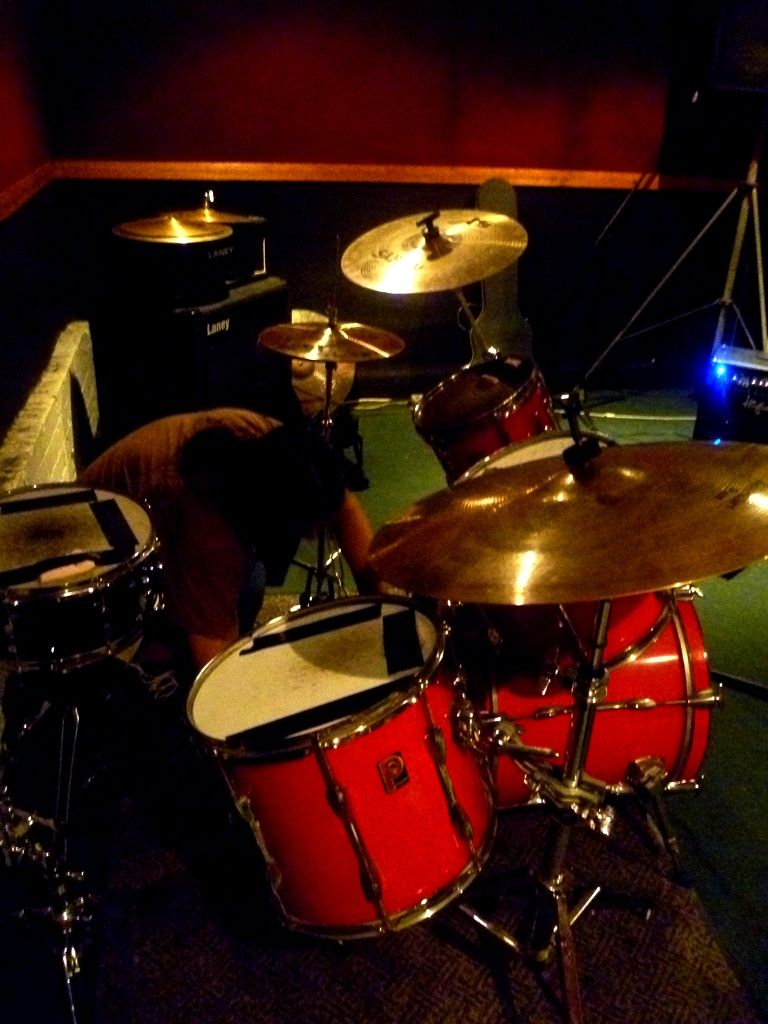 The drum kit. One of the bandmates was fixing the double bass pedals and cymbals onto the kit. The kit had a (single) bass pedal and cymbals to go with it, but the cymbals we had with us sounded far better. The amount of muffling it had on it (tape, sponges etc.) made it sound a lot softer than it normally would be.