Before I joined the crew at the UHSU Catholic Society at the Forum for our weekly lunch gathering, I saw a samba band rehearsing in the Forum. I wondered what was going on, so whilst waiting for my friends, I decided to take a look.
And after lunch, I saw that they had already begun performing. There was a little crowd of people gathered around them, and they went out for a few moments so that the people sitting outside the EleHouse could get a glimpse of what's going on.
Ladies and gentlemen, this is the first day of the

May Fest 2011

, organised by UH Arts.
(Pssssssst.... Students go free!)
The samba band performing today was Rhythms of the City, with their act titled
Braziliana
, and they really got the people moving. They have another show on 14 May in the Weston Auditorium, titled
Os Tempos do Samba
. It seems they do other styles too, like soca and salsa. But because I was tired, I decided not to stay for too long. Perhaps I'd be more involved in the festival
after
my exams are over.
Some pictures I took:
The samba dancers getting the crowd to go out in the sun, in the open space between the Forum and the EleHouse.
View from up above. (Funny that I thought of
this song
when I saw this picture… And it's been ages since I last heard it, and I love that song.) WAIT DO I SEE A FAMILIAR FACE IN THAT PHOTO? O_O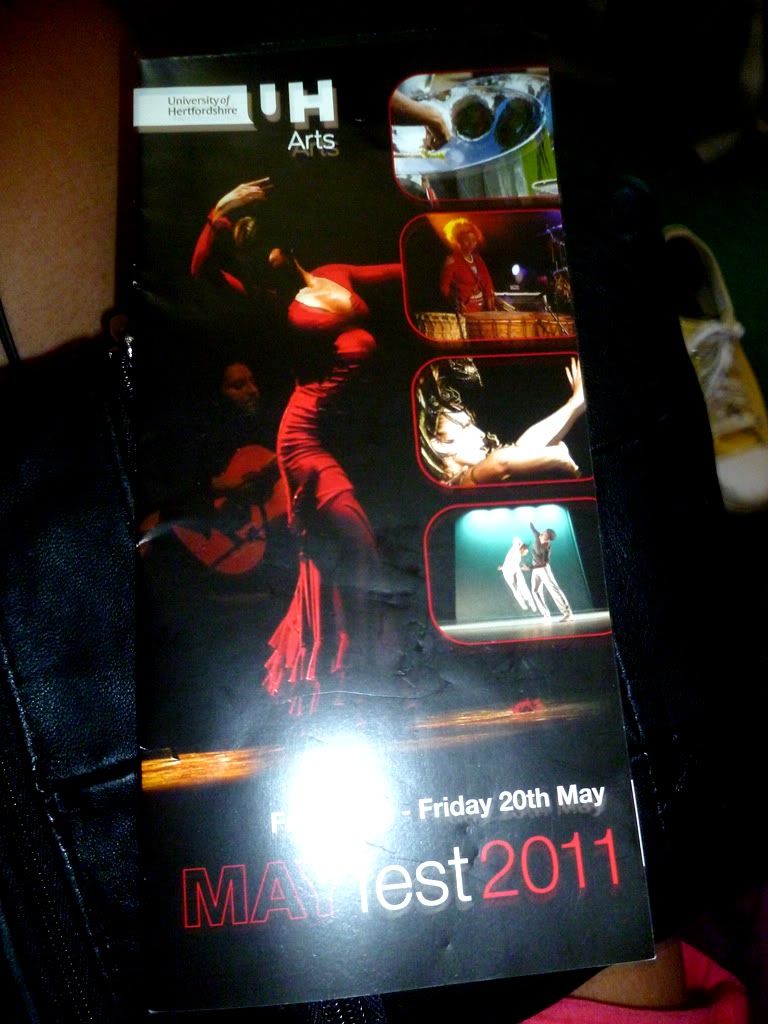 The May Fest 2011 brochure, which was distributed in the Forum this afternoon.
The description of the first show by Rhythms of the City.
After the last paper — Commercial Law on Tuesday, I might attend more events. I do know that Hertfordshire's Got Talent begins in The Forum at noon on that day, but for reasons which I might have specified in the previous posts, I shall not be participating, as much as I
do
want to.
Stay tuned!