There's a book which I got a few days after my 21st birthday (a parish friend gave it to me). It's a book for cat-loving adults and children alike, and it has very, very good witticisms in it.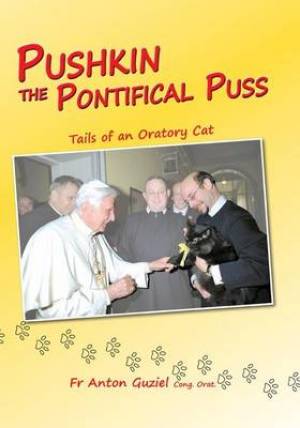 Here is the story of Pushkin the Pontifical Puss, which dates back to 2010, on the day of Pope Benedict XVI's state visit to the UK. Oh, and better still: this story is told from the cat's point of view, at least for the most part.
Now, I'll state this as clear as day. The only downside with this book is that Pushkin's story is presented to the human characters as a daydream, more than anything else. I guess it's a classic story ending for children, but for us adults, there could've been a bit more punch. After all, Pushkin is the awesome cat, his awesomeness even oversteps that of Chuck Norris! One could've made do with a warm ending featuring Fr Anton himself. I guess that's just me, though.
But nearly everything else about the book is refreshing. There is delight in this story, and in some parts, adults can pick out things that children would not yet understand, making it very Disney-like. The story tells, with great hilarity, about how a black half-Persian cat takes a young boy to his room "decorated with ancient pictures and smelling distinctly of cabbage" to tell his fascinating tale.
And it is fascinating: it tells us what cats like and what they don't. Apparently Pushkin doesn't like the idea of stuffed catnip mice. The story goes on to say that human weaknesses are cats' strengths — "(vanity) for us cats... is a way of achieving our ambitions". Pushkin's tale covers his encounter with a mouse, being knocked by a car in the middle of the road, hating cars with a passion after that incident, becoming Parish Cat, Oratory Cat, Cat by Royal Appointment and finally Pontifical Puss. He 'tells' us about "cat TV" — which is round, filled with water and monotonous, but which has the advantage of Pushkin picking out a character and stuffing it in his mouth!
It is also delightful to read Pushkin's encounters with HRH Princess (Marie-Christine) Michael of Kent, and with Pope Benedict XVI himself — all through the eyes of a cat who loves to please. The clergy, parish churches and oratories are given a new perspective through Pushkin's eyes. Whether or not Pushkin gets lots of fanmail as claimed in the story is yet to be seen; I'd ask anyone coming from Birmingham to confirm this with me. :D But the cat has certainly gained the affections of L'Osservatore Romano.
Just so you may get an idea of how awesome this book is, here are some samples:
(On the customs in the Oratory)
One: An Oratory Cat is the protector and guardian of an Oratory House. His or her presence is essential for its wellbeing.
Two: All visitors to the House must meet with his or her approval. For this, a thorough inspection is necessary. The presence of those who do not like cats, or do not lavish on cats the respect they deserve, will not be tolerated.
Three: The Fathers of the Oratory must ensure that the Cat is able to visit them as necessary, and have suitably clawable furniture. This is because a Cat will never claw in its own room. Elegant surroundings are conducive to health and peace of mind.
(On Pushkin's favourite word)
...My favourite human word is Magnifi-cat, which I think means "magnificent cat", and I love to hear it as often as I may. So, one very hot morning, I found the humans had left the doors of the church wide open, so I sneaked inside.
There seemed to be something going on. Candles were burning and my Human was talking to lots of other humans, and I waited patiently for the word 'Magnificat' to appear. After some minutes, I realised this wasn't going to happen, so I decided to protest. Forming my mouth into a beautiful rounded O shape, I walked to the top of the church to where my Human was standing and I began to howl. To my great indignation, one of the humans picked me up and carried me out of the church and closed the door. Why he did it is beyond me. The humiliation that we cats are obliged to suffer! The shame! Of course, if you are human it is important to do as you are told, but for us felines, freedom knows no bounds.
There. Evidence of how well-written Pushkin's tale is, coming from his point of view.
The book is 61 pages long and is published by the Brothers of St Paul. The illustrations are hand-drawn, and quite nice, to say the least. They give a sort of homely feel to them. Let's just say, the day I got this book, I decided to read it, and I read it from cover to cover, and I just couldn't get enough.
I recommend reading this and sharing it. The book gets one star less because of the ending, but I absolutely adore it.
Score: ★★★★
P.S.: I believe I've read the book at least ten times now and I've never gotten fed up of it.
See also: